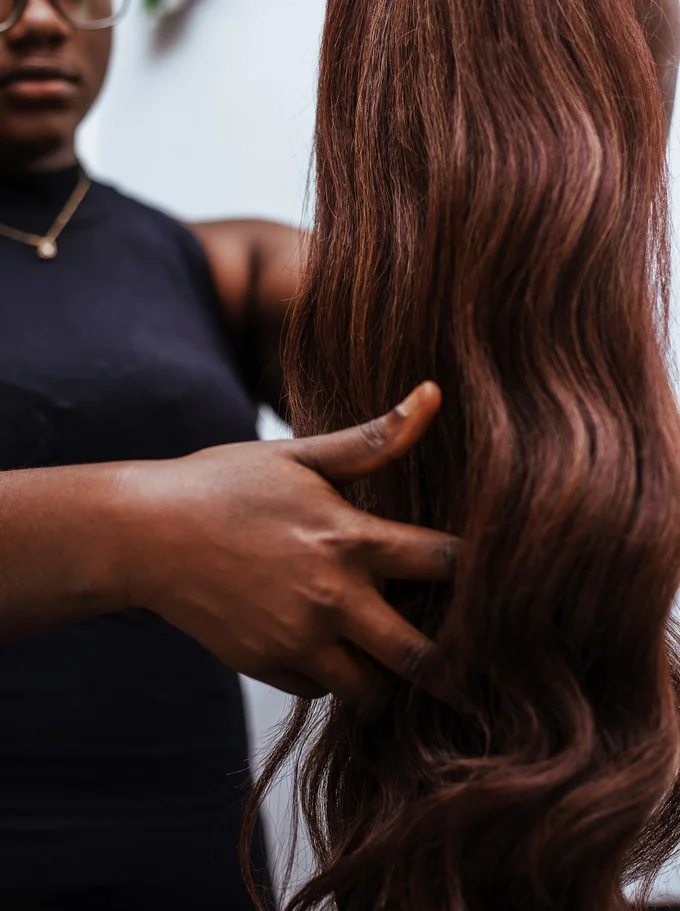 Growing up in the 2010s, long before lace front wigs ruled the Black hair world, a sew-in weave — hair extensions perfectly melded to your hair — was the height of maturity and forward-thinking style. Popularized by R&B stars of the noughties like Jamelia, Ciara and Rihannaand installed by Black hairdressers globally, the weave was the failsafe technique to add hair length, body and volume.
At its core, a sew-in weave is comprised of numerous tracks of extension hair quite literally sewn into hair that has been braided into intricate patterns. The weave's most crucial element — and arguably the biggest damage site — is the 'leave-out', a small portion of hair usually situated at the crown of the head that would be straightened out with flat irons in order to blend into your install. However, as many Black women began to learn how to preserve their coils without the use of heat, it was this styling trick that inevitably led to a shift to wigs over weaves. Ultra-sleek hair weaves are also linked to cases of traction alopecia and other tension-related scalp issues, and the hair-extension technique soon became number one on the haircare no list.
Before I embraced my low heat, au natural hairstyle, the weave (featuring bags of Premium Too wefted human hair extensions — if you know, you know) was a fundamental style option in my hair arsenal. I had said goodbye to hair relaxer aka the 'creamy crack' at 16 and it was far from the idealized journey often lauded in natural hair circles and Instagram pages. It was 2016, during a time when the natural hair movement, spurred on a surge of YouTube tutorials, blogs like Naturally Curly and hair influencers like Nia The Light had begun to advocate for more coil-conscious hair care. Nevertheless, the choice to no longer chemically straighten my hair didn't start with the rite of passage that is the 'Big Chop' or a soul-searching moment born out of a desperate need to reconnect with my hair. Instead, in true younger sister form, I began my break from relaxers simply because my older sister had.
"
"Weaves are making a comeback due to many factors, like an increased awareness about edge damage from lace wigs…"
AYANDA SOARES, HOUSE OF HAIR UK
"
In the seven years since this unceremonious shift, my understanding of how to keep my natural hair healthy versus only aspiring for long length has evolved. However, unlike many women inducted into the natural hair club, boasting endless tips and tricks for the perfect twist-outs, my now unprocessed hair has taken one of two forms: a step and repeat between braid and wigs. It's a strict regimen rationalized by my need to 'protect' my now relaxer-free hair. Over the past few years, many advocates for protective styling and natural hair have begun to question the unrelenting pressure to be a "model" natural hair wearer. The constant politicization of Black hair, the policing of styles in workplaces and school, the natural hair movement's focus on no heat, no chemical processing rules alongside growing criticism over its focus on looser curl patterns have left many Black women at a fatigued crossroads. Earlier this year, out of frustration, I decided to return to weaves.
According to Ayanda Soares, founder of new-gen hair extension salon, House of Hair, it seems I am far from alone in the return to the style. "Weaves are making a comeback due to many factors, like an increased awareness about edge damage from lace wigs and the overall desire to return to different form protectiveness you get from traditional weaves," the stylist explains, adding that "many clients made the switch due to the lack of versatility of previous weaves or because of damage issues due to tight braiding, but with newer methods its becoming easier to manage those concerns – so we've seen a huge increase of requests for weaves over the last year."
It's a revival that celebrity hairstylist Joy Matashi credits heavily to the steady innovation in the hair extension space. "Previously tape-in [extensions] were seen as something exclusive to women with straighter hair," explains Matashi, "However, now we are seeing tape-ins being installed by Black hair specialists in a range of textures."  According to Matashi, we are in a time where people are tired of the lace wigs "due to their expense and the work required." "because not blended lace is more stressful than we like to admit so it's easy to see why more and more Black women are opting for weaves," she explains.
Continue Reading: REFINERY29