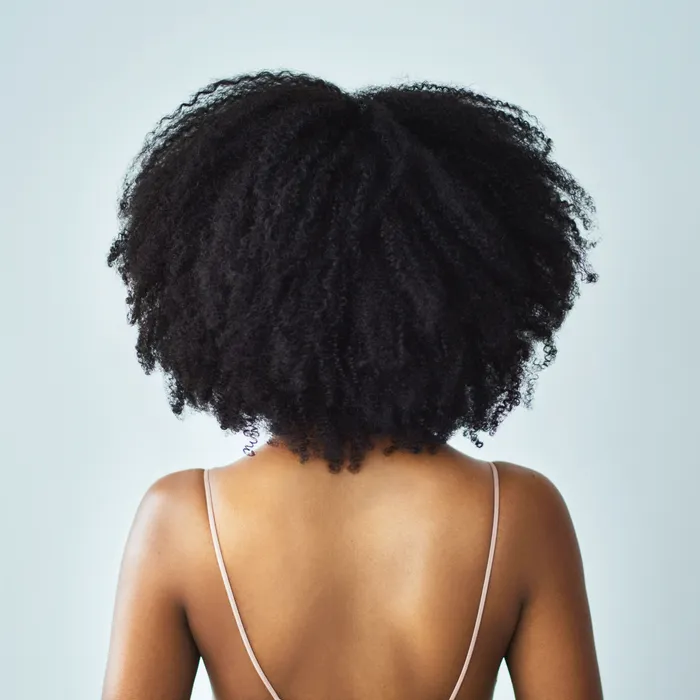 PSA: Don't Forget About Your Natural Hair
Two experts weigh in on the best ways to keep your natural hair on point underneath protective styles.
Protective styles like wigs and sew-in weaves are often looked at as 'breaks' from natural hair. But the truth is, there are no breaks. Though certain styles don't require the prep, products, or physical labor that others do (like the braid styles that constitute as full-on arm workouts, per se) no style elicits an all-out break from the fundamentals of haircare. Even if your hair is completely covered with a lace front wig, for example, keeping your natural hair healthy and hydrated should still be top priority.
When I got my first sew-in weave, I was excited to have some reprieve from the day-to-day of styling my natural hair. For a few weeks, I got to live without the task of detangling, globbing on hair masks, oiling my scalp, and moisturizing my ends. I didn't know what to do with all the extra time tbh—I considered joining an intramural sports team, taking up welding, or finally reading The Iliad. The possibilities were endless. I can't remember how I used my newfound free time, but I can't forget how disappointed I was after cutting out my tracks and taking down my cornrows a few weeks later. Instead of the fuller, more luscious strands that I thought the protective style would leave me with, my hair was shedding like never before. In a panic, I called my mom, who is a hairstylist, and she told me that this was happening because I neglected my natural hair while my sew-in was in.
While wigs and weaves themselves will not directly increase hair growth, "they can act as a temporary covering to the full head or a portion of the hair," Brooklyn-based hairstylist, trichologist, and founder of hair-care platform Mmsmith.co Mickiela Smith tells Coveteur. "This may allow the hair to be in its natural state for an extended period, undisturbed, from someone who would typically have their hair in a manipulated state otherwise. Constant manipulation of the hair, while considering the hair health and other circumstances, like excessive thermal use, improper product selection and use, and lifestyle, can cause severe damages to hair."
Benefits aside, a hands-off approach to your natural hair will do more harm than good when you're wearing a wig or sew-in weave—your hair still needs some TLC. In lieu of a frantic phone call to my mom, I asked Mickiela Smith, and Maya Smith, licensed cosmetologist and founder and CEO of The Doux, for tips. Keep reading for more on how to keep your natural hair in top shape while wearing a wig or weave.
Caring For Your Hair Under a Wig
Since you obviously can't access the hair underneath a lace front while it's on, caring for your natural hair hinges on what you do before applying the wig and how often you remove it. "What's great about a wig unit is, based on the installation process, you can remove it at your discretion and access your hair and scalp with ease," Mickiela says.
Before applying a wig cap, Maya says that it's important to thoroughly wash, deep condition, and braid down your natural hair. And to avoid a possible reaction to the adhesive, she recommends trying a patch test beforehand. Styling a unit separately on a mannequin can also avoid direct pulling on your scalp, Mickiela adds. Cleansing the wig itself on a regular basis is also an important factor in maintaining healthy hair and scalp underneath.
Caring For Your Hair Under a Weave
With sew-in weaves, you get a bit more access to your natural hair—there are the portions that are left out along your hairline and your middle or side part, then there are the braids that the wefts are sewn to. You can still feel this hair, so it's important to continue to treat it, but scalp care is key.
Scalp care with a sew-in weave revolves around keeping it moisturized, but not wet. "The scalp beneath a sew-in tends to be warm, damp, and dark, which is a perfect breeding ground for dandruff-causing bacteria and fungi," Maya explains. After sweating or washing your hair, making sure that the scalp is thoroughly dried off should be top priority for keeping your natural hair at its best. "Excess perspiration must be dried quickly with a hand-held or hooded dryer on the coolest setting."
"The scalp can be refreshed temporarily by applying a scalp treatment," Maya says. To keep the scalp fresh between washes, she recommends The Doux's Get Honey! Hair and Scalp Serum. "It penetrates directly into the skin and attracts draws in moisture with hyaluronic acid," she explains.
Washing Your Natural Hair Under a Wig or Weave
With wigs and weaves, you shouldn't go longer between shampoos than you typically would. "Your current cleansing regimes should still apply with extensions," Mickiela says. "A healthy cleansing regimen can consist anywhere from weekly to bi-weekly, but this can vary for different scalp types, those with medicated products, or other circumstances," Mickiela says. She stresses how important it is to keep up with your usual cleansing regimen and to make sure that everything is getting thoroughly washed: the leave out, the extensions, the braids underneath and the scalp.
When washing your sew-in weave, Mickiela suggests "starting straight at the scalp and root of the hair in short massaging motions, where you find and parting or opening."
"In your conditioning, make sure to also detangle the extension from the base to ends with an extension brush," she adds. "And rinse your conditioner well to avoid future debris or a film on the hair."
And after washing the hair, thoroughly drying it is a very important step. "Most sew-in-weft extension foundations involve on-the-scalp cornrows that use an interlaced technique, this ultimately creates a reduced ability for air to pass through the hair, your hairs density will also add to this factor," Mickiela expalins. "For this you'll need to dry your hair thoroughly to avoid hair damage, mildew, and scalp flare-ups."
On another hand, if the foundation of the extension installation involves a high degree of tension or an not an appropriate extension type this then becomes an adverse effect while not encouraging healthy hair, with potential traction hair-loss, etc.
Source: COVETEUR